JAI tool installation at Ulm University
A new JAI LaboACE LC 7080 Plus has arrived at the University of Ulm's Institute for Organic Chemistry II and New Materials
Quickly and efficiently isolating high-purity substances by Recycling Preparative HPLC
"In our group, we focus on the synthesis and investigation of nanorings of different sizes. However, separating these different sizes is a big challenge, so preparative GPC is inevitable. JAI's instrument was recommended to us mainly by other groups, most of which have very similar separation problems. In addition, JAI is also the only manufacturer that specialises explicitly in GPC and not HPLC. All the competing suppliers could somehow manage it, but none are as highly specialised as JAI. Another big point was the amount of sample that can be applied and the automatic injection, which leads to separation on a gram scale without much effort."

Prof. Dr. Birgit Esser / Research Associate Philipp Seitz, Institute for Organic Chemistry II and New Materials, University of Ulm
Quick, simple, and straightforward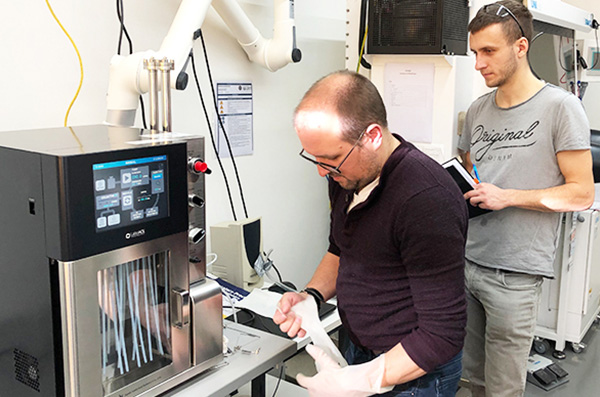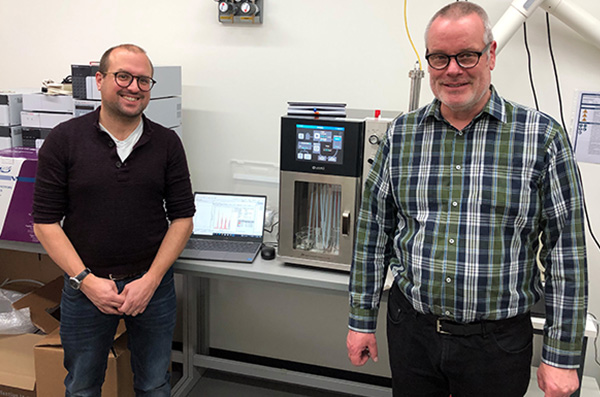 "I am always delighted when I can install a JAI device. Everything is quick, simple, and straightforward. These tools are just very reliable," Philipp elaborates.
Philipp is our engineers' technical contact and expert. He has been a member of our team since 2008 and knows his way around.
The installation was well-rounded, thanks to research assistant Philipp Seitz (Institute for Organic Chemistry II and New Materials, University of Ulm) and our responsible sales manager Dipl. Phys. Jens Niemann.
You may be curious why the LaboACE LC 7080 Plus is required at the Institute of Organic Chemistry II and New Materials
We got to the bottom of this question by interviewing Philipp Seitz, an institute research associate.
Interview with Philipp Seitz (Institute of Organic Chemistry II and New Materials)
Good day, Mr. Seitz. I'm excited to discover more about you, your research, and your experiences with the JAI instrument.
Mr. Seitz, what will you be doing with the LaboACE LC 7080?
Because different nano ring sizes have little polarity difference, they must be separated by the size difference. Furthermore, various large oligomers can be separated and studied, allowing us to better understand the impact of polymerisation and the molecular size at which new properties emerge.
What is the research or research group's goal?
One of our group's goals is to synthesize and study conjugated nanotires and their potential applications in organic functional materials. The group's other research interests include organic batteries, photoredox catalysis, and triboelectricity.
Where do your biggest challenges lie when you think about the path to achieving these goals?
Quite clearly in the demanding synthesis and cleaning of these high-stress systems.
What other tasks is the tool used for? Is it also used by other groups?
Aside from separating different ring sizes, the tool is also used to purify compounds that are not or only very difficult to purify using traditional column chromatography. Use by other groups is not currently planned.
Why did you choose the LaboACE LC 7080 Plus from JAI and what was particularly important to you?
We chose the JAI instrument because other groups have used it in our fieldwork around the world and have consistently reported very positive results. In addition, compatibility with many solvents is crucial.
How difficult was the site preparation and how did the installation go?
There were no difficulties at all, as the unit is very compact, and the installation was very easy and smooth.
What would you say to someone who is thinking about buying a recycling preparation HPLC instrument?
Regarding an HPLC I could not give any tips, but for GPC I would recommend the instrument from JAI, due to the arguments just mentioned.
Do you have any final thoughts you would like to share?
I thank you for the trouble-free cooperation and hope that the device runs as hoped.
I remain with kind regards,
Philipp Seitz
Of course, we also wanted to know how Jens Niemann (Sales Engineer, PHI GmbH) assesses the process from sales to installation from his point of view: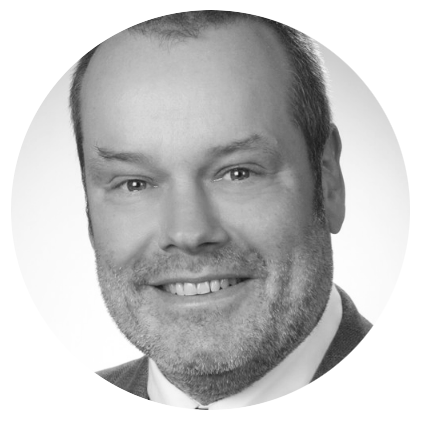 "The entire sales process for selling the device to Prof. Esser's working group went very well and already started when the working group was still based in Freiburg. After the move to Ulm, Mr Seitz took over the management at the institute, which went smoothly.

After trial measurements at JAI in Japan, which gave very good results, an (online) demonstration of the tool was carried out together with the colleagues in Japan. This also went excellently, for which I would like to thank Imai-san in particular.

The installation in Ulm was particularly impressive. Everything worked right away, and the entire installation was done in less than 2 hours. Afterwards, our service employee Philipp Leicht trained the users in the operation of the system, which also went without a hitch. The working group already had extensive knowledge about the technology of recycling preparative GPC, so the need for training was correspondingly low.

I would also like to thank everyone involved in this project for the smooth and professional cooperation. I hope that Prof. Esser's working group will be able to use the JAI tool for a long time and that this will serve them well in their scientific work."
We wish the LaboACE LC-7080 Plus good acclimatisation in Ulm, many impressive applications, and a long life.
Join us in following the initial measurement successes in the first application areas by staying tuned.

About the Institute for Organic Chemistry II and New Materials
The Institute pursues a broad experimental research program in organic chemistry, supramolecular chemistry, and materials science and is active in teaching and training in organic and materials chemistry at all levels of education and in various degree programs.
University of Ulm
Institute for Organic Chemistry II and New Materials
Albert-Einstein-Allee 11
89081 Ulm