PHI Software & Data Reduction Training and European User Meeting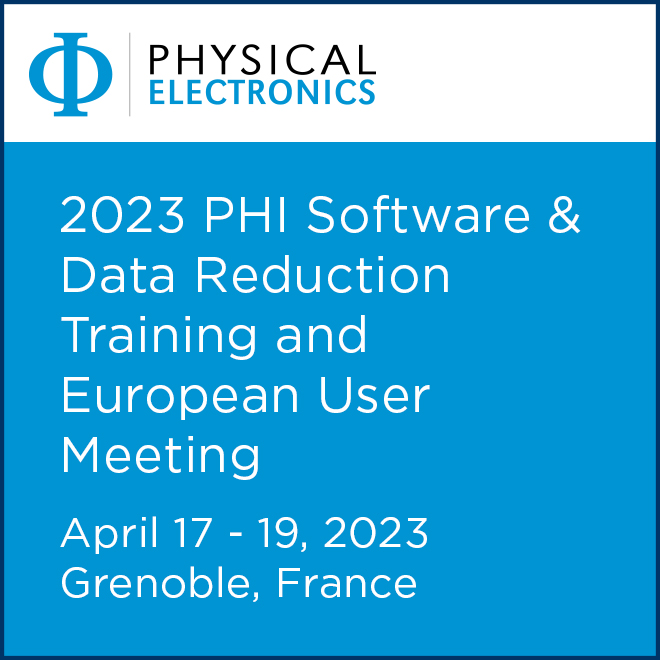 This event is an excellent platform for sharing information and ideas. PHI USA will present product updates as well as current applications and upgrades for your existing systems.
Equally important is your feedback and input on the event. Therefore, you are invited to share your experiences with your PHI equipment with the other PHI users in a short 10- to 15-minute presentation. Topics may be application-related or may relate to features you have developed for your system that may be of general interest to other customers. The meeting will cover all techniques supported by PHI, including XPS, Auger, and Time-of-Flight SIMS.
PHI MultiPak Training
On April 17, immediately before the user meeting, PHI will offer a MultiPak training session focused on data reduction for XPS data. A separate PHI MultiPak training session on data reduction for Auger data is also planned. A PHI TOF-DR training session focusing on TOF-SIMS data reduction will also be offered on the same day. To make the training as effective as possible, participation is limited to 15 people for the XPS training and 8 people for the TOF-DR and Auger training. Registrations will be accepted on a first-come, first-served basis.
The host, CEA-Grenoble's NanoCharacterization Platform, is one of the first companies in Europe to have the PHI Quantes XPS/HAXPES instrument in its facility.